Toyota Yaris: General repair instructions
1. WORK PRECAUTIONS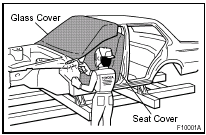 (a) VEHICLE PROTECTION.
(1) When welding, protect the painted surfaces, windows, seats and carpet with heat resistant, fireproof covers.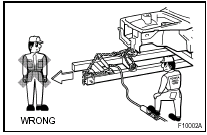 (b) SAFETY.
(1) Never stand in a direct line with the chain when using a puller on the body or frame, and be sure to attach a safety cable.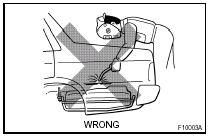 (2) Before performing repair work, check for fuel leaks.
If a leak is found, be sure to close the opening completely.
(3) If it is necessary to use a flame in the area of the fuel tank, first remove the tank and plug the fuel line.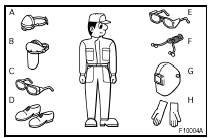 (c) SAFETY WORK CLOTHES (1) In addition to the usual mechanic's wear, cap and safety shoes, the appropriate gloves, head protector, glasses, ear plugs, face protector, dust-prevention mask, etc. should be worn as the situation demands.
Code Name A Dust-Prevention Mask B Face Protector C Eye Protector D Safety Shoes E Welder's Glasses F Ear Plugs G Head Protector H Welder's Gloves
2. HANDLING PRECAUTIONS OF PLASTIC BODY PARTS
(1) The repair procedure for plastic body parts must conform with the type of plastic material.
(2) Plastic body parts are identified by the codes in the following table.
(3) When repairing metal body parts adjoining plastic body parts (by brazing, frame cutting, welding, painting etc.), consideration must be given to the properties of the plastic.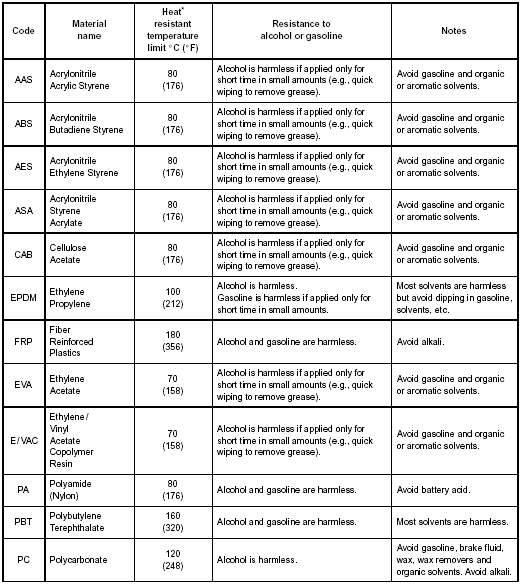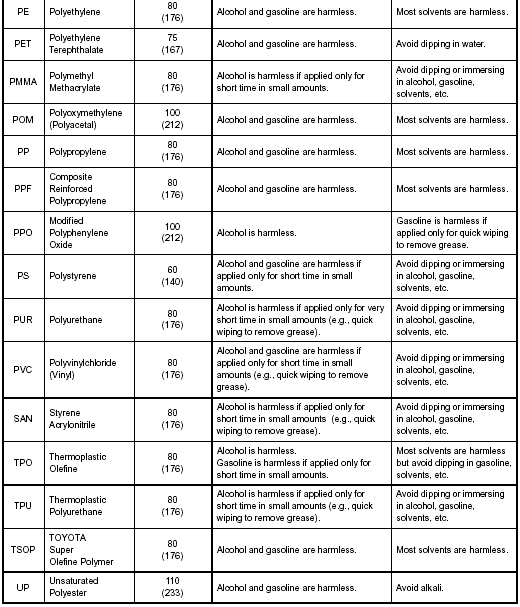 *Temperatures higher than those listed here may result in material deformation during repair.
3. LOCATION OF PLASTIC BODY PARTS
Parts Name Code Front Bumper Cover TSOP Radiator Grille TSOP Headlight PC/PP Fog Light TSOP Front Pillar Upper Cover AES Side Turn Signal Light PMMA/PC/ABS Cowl Top Ventilator Louver TSOP/PP/PE Rear Body Mudguard PP Door Outside Handle PA/PC/PBT Outer Rear View Mirror PP/PA/ABS * ASA Front Door Window Frame Front Moulding ASA Front Spoiler Cover TSOP Front Fender Mudguard PP Back Door Outside Handle PA License Plate Light PC Rear Combination Light PMMA/ASA Rear Bumper Cover TSOP
HINT: * Resin material differs depending on model.
/ Made up of 2 or more kinds of materials.