Toyota Yaris: Automatic transmission
Select a shift position appropriate for the driving conditions.
■ Shifting the shift lever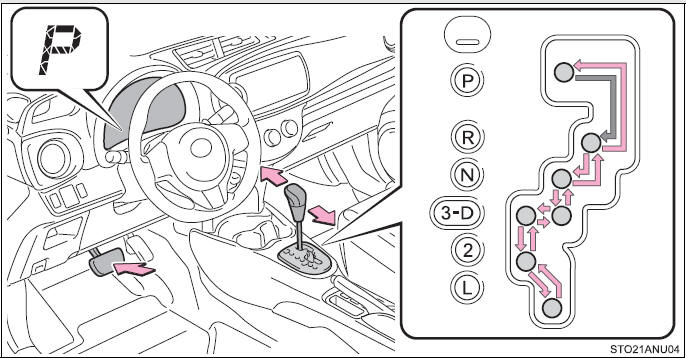 While the engine switch is in the "ON" position, move the shift lever with the brake pedal depressed. When shifting the shift lever between P and D, make sure that the vehicle is completely stopped.
■ Shift position purpose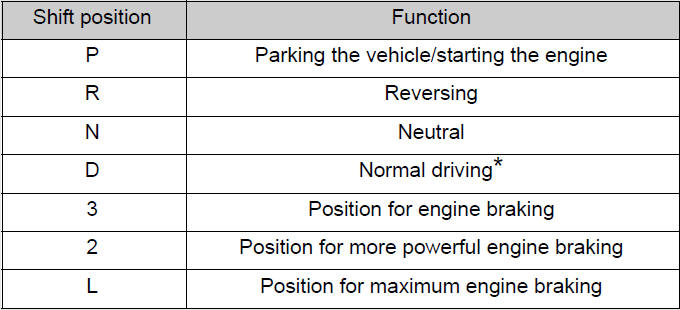 Shifting to the D position selects the most suitable gear for the particular driving condition. Setting the shift lever in the D position is recommended for normal driving.
■Downshift restriction
The maximum allowable speeds are as follows.

■AI-SHIFT
AI-SHIFT automatically selects the suitable gear according to driver performance and driving conditions. AI-SHIFT automatically operates when the shift lever is in the D position. When driving downhill, there may be cases where the vehicle shifts down automatically to obtain engine braking. As a result of the downshifting, the engine speed may increase.
■When driving with the cruise control system (if equipped)
Engine braking will not occur when downshifting from D. (→P. 158)
■If the shift lever cannot be shifted from P
→P. 328
CAUTION
■When driving on slippery road surfaces
Do not accelerate or shift gears suddenly. Sudden changes in engine braking may cause the vehicle to spin or skid, resulting in an accident.