Toyota Yaris: Power outlet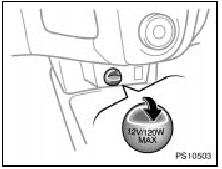 The power outlet is designed for power supply for car accessories. To use the power outlet, open as shown in the illustration.
The key must be in the "ACC" or "ON" position for the power outlet to be used.
NOTICE.
To prevent the fuse from being blown, do not use the electricity over the total vehicle capacity of 12V/120W.
To prevent the battery from being discharged, do not use the power outlet longer than necessary when the engine is not running.
Close the power outlet lid when the power outlet is not in use. Inserting anything other than an appropriate plug that fits the outlet, or allowing any liquid to get into the outlet may cause electrical failure or short circuits.