Toyota Yaris: Tachometer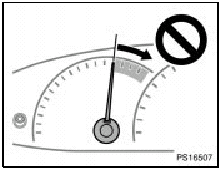 The tachometer indicates engine speed in thousands of rpm (revolutions per minute). Use it while driving to select correct shift points and to prevent engine lugging and over-revving.
Driving with the engine running too fast causes excessive engine wear and poor fuel economy. Remember, in most cases the slower the engine speed, the greater the fuel economy.
NOTICE.
Do not let the indicator get segment into the red zone. This may cause severe engine damage.