Toyota Yaris: Odometer and two trip meters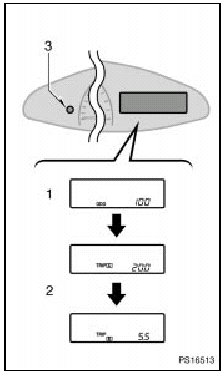 With tachometer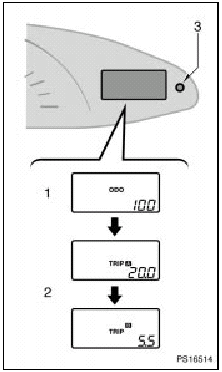 Without tachometer
This meter displays the odometer and two trip meters.
1. Odometer—Shows the total distance the vehicle has been driven.
2. Two trip meters—Shows two different distances independently driven since the last time each trip meter was set to zero.
You can use one trip meter to calculate the fuel economy and the other to measure the distance on each trip. All trip meter data is cancelled if the electrical power source is disconnected.
3. Trip meter reset knob—It can reset the two trip meters to zero, and also change the meter display.
To change the meter display, quickly push and release the knob. The meter display changes in the order from the odometer to trip meter A to trip meter B, then back to the odometer each time you push.
To reset the trip meter A to zero, display the meter A reading, then push and hold the knob until the meter is set to zero. The same process can be applied for resetting the trip meter B.