Toyota Yaris: Opening and closing the windows
Power windows
The power windows can be opened and closed using the switches.
Operating the switch moves the windows as follows: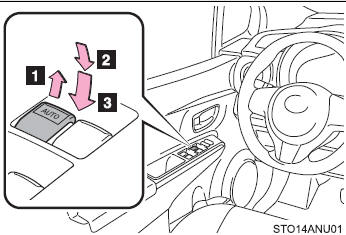 Closing

Opening

One-touch opening (driver's window only)*
*: To stop the window partway, operate the switch in the opposite direction.
Window lock switch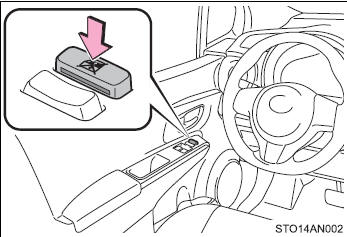 Press the switch down to lock the passenger window switches.
Use this switch to prevent children from accidentally opening or closing a passenger window.
■The power windows can be operated when
The engine switch is in the "ON" position.
■Operating the power windows after turning the engine off
The power windows can be operated for approximately 45 seconds even after the engine switch is turned to the "ACC" or "LOCK" position. They cannot, however, be operated once either front door is opened.
CAUTION
■Closing the windows
Observe the following precautions. Failure to do so may result in death or serious injury.
●Check to make sure that all passengers do not have any part of their body in a position where it could be caught when a window is being operated. ●Do not allow children to operate the power windows.
Closing a power window on someone can cause serious injury, and in some instances, even death.