Toyota Yaris: Keys (without engine immobilizer system)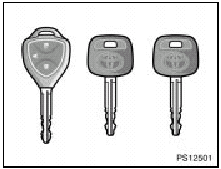 With wireless remote control

Without wireless remote control
These keys work in every lock.
Since the side doors and back door can be locked without a key, you should always carry a spare key in case you accidentally lock your keys inside the vehicle.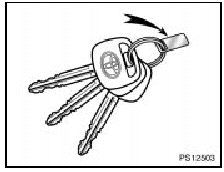 KEY NUMBER PLATE
Your key number is shown on the plate.
Keep the plate in a safe place such as your wallet, not in the vehicle.
If you should lose your keys or if you need additional keys, duplicates can be made by a Toyota dealer using the key number.
We recommend writing down the key number and storing it in a safe place.