Toyota Yaris: Brake pad wear limit indicators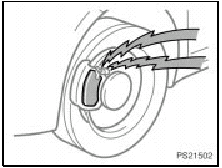 The brake pad wear limit indicators on your disc brakes give a warning noise when the brake pads are worn to where replacement is required.
If you hear a squealing or scraping noise while driving, have the brake pads checked and replaced by your Toyota dealer as soon as possible. Expensive rotor damage can result if the pads are not replaced when necessary.