Toyota Yaris: Back door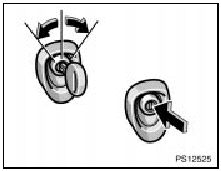 LOCKING AND UNLOCKING WITH KEY
Insert the key into the keyhole and turn it.
To lock: Turn the key clockwise.
To unlock: Turn the key counterclockwise.
To open the back door, push the button.
Vehicles with the power door lock system —Operating the power door lock switch or wireless remote control simultaneously locks or unlocks the back door (see "Side doors").
When closing the back door, make sure it is securely closed.
See "—Stowage precautions" for precautions when loading luggage.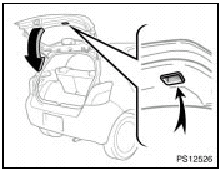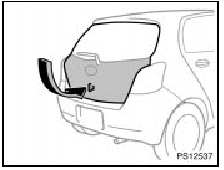 When closing the back door, the inside handle can be used to make the reach easier.
To close the back door, lower it and press down on it. After closing the back door, try pulling it up to make sure it is securely closed.
CAUTION.
Keep the back door closed while driving. This not only keeps the luggage from being thrown out but also prevents exhaust gases from entering the vehicle.
Push the back door shut from the outside. Using the inside handle to directly close the back door could cause hands, arms or head to be caught in the door, resulting in serious injuries.