Toyota Yaris: Windshield wipers and washer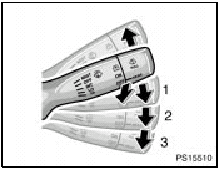 To turn on the windshield wipers, move the lever to the desired setting.
The key must be in the "ON" position.
| | |
| --- | --- |
| Lever position | Speed setting |
| Position 1 | Intermittent |
| Position 2 | Slow |
| Position 3 | Fast |
For a single sweep of the windshield, push the lever up and release it.
To squirt washer fluid, pull the lever toward you.
If the windshield wipers are off, they will operate a couple of times after the washer squirts.
For instructions on adding washer fluid, see "Adding washer fluid".
In freezing weather, warm the windshield with the defroster before using the washer.
This will help prevent the washer fluid from freezing on your windshield, which can block your vision.
NOTICE.
Do not operate the wipers if the windshield is dry. It may scratch the glass.
When waxing your vehicle, make sure that the washer nozzles do not become blocked. If a nozzle becomes blocked, contact your Toyota dealer to have the vehicle serviced.
NOTICE.
If a nozzle becomes blocked, do not try to clear it with a pin or other object. The nozzle will be damaged.