Toyota Yaris: Three-way catalytic converter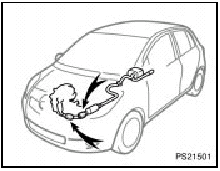 The three-way catalytic converter is an emission control device installed in the exhaust system.
The purpose is to reduce pollutants in the exhaust gas.
CAUTION.
Keep people and combustible materials away from the exhaust pipe while the engine is running. The exhaust gas is very hot.
Do not drive, idle or park your vehicle over anything that might burn easily such as grass, leaves, paper or rags.
NOTICE.
A large amount of unburned gases flowing into the three-way catalytic converter may cause it to overheat and create a fire hazard. To prevent this and other damage, observe the following precautions: Use only unleaded gasoline.
Do not drive with an extremely low fuel level; running out of fuel could cause the engine to misfire, creating an excessive load on the three- way catalytic converter.
Do not allow the engine to run at idle speed for more than 20 minutes.
Avoid racing the engine.
Do not push-start or pull-start your vehicle.
Do not turn off the ignition while the vehicle is moving.
Keep your engine in good running order. Malfunctions in the engine electrical system, electronic ignition system/distributor ignition system or fuel system could cause an extremely high three-way catalytic converter temperature.
If the engine becomes difficult to start or stalls frequently, take your vehicle in for a check-up as soon as possible. Remember, your Toyota dealer knows your vehicle and its three-way catalytic converter system best.
To ensure that the three-way catalytic converter and the entire emission control system operate properly, your vehicle must receive the periodic inspections required by the Toyota Maintenance Schedule.
For scheduled maintenance information, refer to the "Scheduled Maintenance Guide" or "Owner's Manual Supplement".