Toyota Yaris: Rotating tires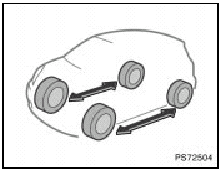 To equalize the wear and help extend tire life, Toyota recommends that you rotate your tires according to the maintenance schedule.
(For scheduled maintenance information, please refer to the "Scheduled Maintenance Guide" or "Owner's Manual Supplement".).
However, the most appropriate timing for tire rotation may vary according to your driving habits and road surface conditions.
See "If you have a flat tire" for tire change procedure.
When rotating tires, check for uneven wear and damage. Abnormal wear is usually caused by incorrect tire pressure, improper wheel alignment, out- of-balance wheels, or severe braking.
CAUTION.
Do not include a compact spare tire when rotating the tires. It is designed for temporary use only.