Toyota Yaris: Outside rear view mirrors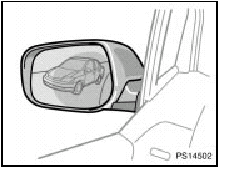 Adjust the mirror so that you can just see the side of your vehicle in the mirror.
Be careful when judging the size or distance of any object seen in the outside rear view mirror on the passenger's side because it is a convex mirror. Any object seen in a convex mirror will look smaller and farther away than when seen in a flat mirror.
CAUTION.
Do not adjust the mirror while the vehicle is moving. Doing so may cause the driver to mishandle the vehicle and an accident may occur resulting in death or serious injuries.
—Power rear view mirror control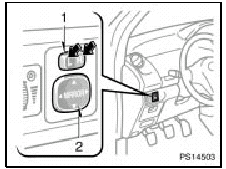 To adjust a mirror, use the switches.
1. Master switch—To select the mirror to be adjusted Push the switch to "L" (left) or "R" (right).
2. Control switch—To move the mirror Push the switch in the desired direction.
Mirrors can be adjusted when the key is in the "ACC" or "ON" position.
NOTICE.
If ice should jam the mirror, do not operate the control or scrape the mirror face. Use a spray de-icer to free the mirror.
—Folding rear view mirrors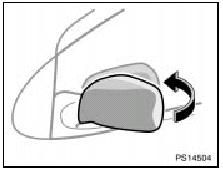 The rear view mirrors can be folded backward for parking in compact areas.
To fold the rear view mirror, push backward until you hear the click.
CAUTION.
Do not drive with the mirrors folded backward. Both the driver and passenger side rear view mirrors must be extended and properly adjusted before driving.
NOTICE.
Do not push backward more than the click. It may damage the mirror or vehicle.