Toyota Yaris: Anti-glare inside rear view mirror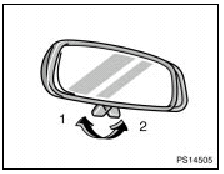 Adjust the mirror so you can just see the rear of your vehicle in the mirror.
To reduce glare from the headlights of the vehicle behind you during night driving, operate the lever on the lower edge of the mirror.
Daylight driving—Lever at position 1.
The reflection in the mirror has greater clarity at this position.
Night driving—Lever at position 2.
Remember that by reducing glare you also lose some rear view clarity.
CAUTION.
Do not adjust the mirror while the vehicle is moving. Doing so may cause the driver to mishandle the vehicle and an accident may occur resulting in personal death or serious injuries.