Toyota Yaris: Checking battery condition
—Precautions
CAUTION.
BATTERY PRECAUTIONS.
The battery produces flammable and explosive hydrogen gas.
Do not cause a spark from the battery with tools.
Do not smoke or light a match near the battery.
The electrolyte contains poisonous and corrosive sulfuric acid.
Avoid contact with eyes, skin or clothes.
Never ingest electrolyte.
Wear protective safety glasses when working near the battery.
Keep children away from the battery.
EMERGENCY MEASURES.
If electrolyte gets in your eyes, flush your eyes with clean water immediately and get immediate medical attention. If possible, continue to apply water with a sponge or cloth while en route to the medical office.
If electrolyte gets on your skin, thoroughly wash the contact area. If you feel pain or burning, get medical attention immediately.
If electrolyte gets on your clothes, there is a possibility of its soaking through to your skin, so immediately take off the exposed clothing and follow the procedure above, if necessary.
If you accidentally swallow electrolyte, drink a large quantity of water or milk. Follow with milk of magnesia, beaten raw egg or vegetable oil. Then go immediately for emergency help.
—Checking battery exterior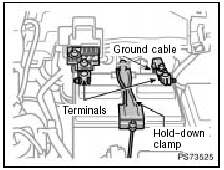 Before checking the battery, remove the cover. (See "(c) Jump starting").
Check the battery for corroded or loose terminal connections, cracks, or loose hold-down clamp.
a. If the battery is corroded, wash it off with a solution of warm water and baking soda. Coat the outside of the terminals with grease to prevent further corrosion.
b. If the terminal connections are loose, tighten the clamp nut—but do not overtighten.
c. Tighten the hold-down clamp only enough to keep the battery firmly in place. Overtightening may damage the battery case.
NOTICE.
Be sure the engine and all accessories are off before performing maintenance.
When checking the battery, remove the ground cable from the negative terminal ("-" mark) first and reinstall it last.
Be careful not to cause a short circuit with tools.
Take care no solution gets into the battery when washing it.
—Checking battery condition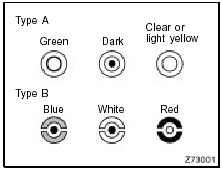 CHECKING BY THE INDICATOR
Check the battery condition by the indicator color.
Indicator color
Condition
Type A
Type B
GREEN
BLUE
Good
DARK
WHITE
Charging necessary. Have battery checked by your Toyota dealer.
CLEAR or LIGHT YELLOW
RED
Have battery checked by your Toyota dealer.