Toyota Yaris: Activating panic mode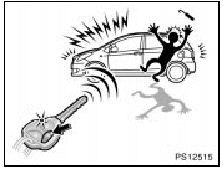 Pushing the panic switch for 1 second blows the horn intermittently and flashes the headlights, tail lights and emergency flashers and turns on the interior light.
The panic switch is used to deter vehicle theft when you witness anyone attempting to break into or damage your vehicle.
The panic mode will last for one minute.
To stop the panic mode midway, do the following: Push any switch on the key.
Turn the ignition key from the "LOCK" to "ON" position.
The panic mode does not work when the ignition key is in the "ON" position.