Toyota Yaris: Ignition switch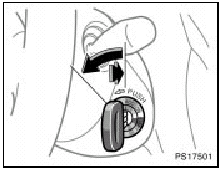 "START"—Starter motor on. The key will return to the "ON" position when released.
For starting tips, see Section 3.
"ON"—Engine on and all accessories on.
This is the normal driving position.
"ACC"—Accessories such as the radio operate, but the engine is off.
If you leave the key in the "ACC" or "LOCK" position and open the driver's door, a buzzer will remind you to remove the key.
"LOCK"—Engine is off and the steering wheel is locked. The key can be removed only at this position.
You must push in the key to turn the key from "ACC" to the "LOCK" position. On vehicles with an automatic transmission, the selector lever must be put in the "P" position before pushing the key.
Vehicles with engine immobilizer system— Once you remove the key, the engine immobilizer system is automatically set. (See "Engine immobilizer system").
When starting the engine, the key may seem stuck at the "LOCK" position. To free it, first be sure the key is pushed all the way in, and then rock the steering wheel slightly while turning the key gently.
Approximately five hours after the engine is turned off, you may hear sound coming from underneath the luggage compartment for several minutes. This is normal operation and does not indicate a malfunction.
(See "Leak detection pump").
It is not a malfunction if the needles on all meters move slightly when the key is turned to the "ACC", "ON" or "START" position.
CAUTION.
For manual transmission: Never remove the key when the vehicle is moving, as this will lock the steering wheel and result in loss of steering control.
NOTICE.
Do not leave the key in the "ON" position if the engine is not running.
The battery will discharge and the ignition could be damaged.