Toyota Yaris: First generation (XP10; 1998–2005)
First generation (XP10; 1998–2005)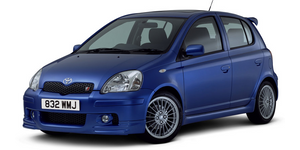 The first generation XP10 series Toyota Yaris, designed by Sotiris Kovos at Toyota's ED2 studio in Europe. Production began in late 1998, with a Japanese on-sale date of January 1999; European sales commenced two months later as the "Toyota Yaris". When introduced to Australasia in October 1999, the "Toyota Echo" name was used, as was the case in Canada when released there in 2003. The "Echo" and "Yaris" names were also given to the export version of the related Japanese market Toyota Platz sedan.
Toyota redesigned the Yaris in early 2005, going on sale in Japan that February. The Toyota Belta sedan, shares underpinnings with the Yaris. However, while the Vitz was designed at Toyota's European ...
See also:
SRS airbags
The SRS airbags inflate when the vehicle is subjected to certain types of severe impacts that may cause significant injury to the occupants. They work together with the seat belts to help reduce the ...
Center body pillar (CUT): Sedan
REPLACEMENT REMOVAL INSTALLATION Temporarily install the new parts and measure each part of the new parts in accordance with the body dimension diagram. (See the body dimension diagram) Ins ...
Floor mat
Use a floor mat of the correct size. If the floor carpet and floor mat have two holes, then it is designed for use with a locking clip. Fix the floor mat with locking clip into the holes in the ...