Toyota Yaris: First generation (XP10; 1998–2005)
First generation (XP10; 1998–2005)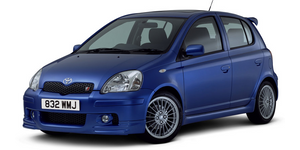 The first generation XP10 series Toyota Yaris, designed by Sotiris Kovos at Toyota's ED2 studio in Europe. Production began in late 1998, with a Japanese on-sale date of January 1999; European sales commenced two months later as the "Toyota Yaris". When introduced to Australasia in October 1999, the "Toyota Echo" name was used, as was the case in Canada when released there in 2003. The "Echo" and "Yaris" names were also given to the export version of the related Japanese market Toyota Platz sedan.
Toyota redesigned the Yaris in early 2005, going on sale in Japan that February. The Toyota Belta sedan, shares underpinnings with the Yaris. However, while the Vitz was designed at Toyota's European ...
See also:
Seat belts
Make sure that all occupants are wearing their seat belts before driving the vehicle. ■ Correct use of the seat belts ● Extend the shoulder belt so that it comes fully over the should ...
Replacing battery
For replacement, use a CR2016 lithium battery or equivalent and a flathead screwdriver or equivalent. CAUTION. Special care should be taken to prevent small children from swallowing the removed ...
Battery recharging precautions
During recharging, the battery is producing hydrogen gas. Therefore, before recharging: 1. If recharging with the battery installed on the vehicle, be sure to disconnect the ground cable. 2. B ...