Toyota Yaris: First generation (XP10; 1998–2005)
First generation (XP10; 1998–2005)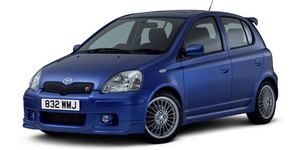 The first generation XP10 series Toyota Yaris, designed by Sotiris Kovos at Toyota's ED2 studio in Europe. Production began in late 1998, with a Japanese on-sale date of January 1999; European sales commenced two months later as the "Toyota Yaris". When introduced to Australasia in October 1999, the "Toyota Echo" name was used, as was the case in Canada when released there in 2003. The "Echo" and "Yaris" names were also given to the export version of the related Japanese market Toyota Platz sedan.
Toyota redesigned the Yaris in early 2005, going on sale in Japan that February. The Toyota Belta sedan, shares underpinnings with the Yaris. However, while the Vitz was designed at Toyota's European ...
See also:
Clock
With tachometer Without tachometer The digital clock indicates the time. To adjust the clock, put the key in the "ON" position. With tachometer— Pushing the reset knob flashes the ...
Dimensions and weights
Overall length mm (in.) 3825 (150.6) Overall width mm (in.) 1695 (66.7) Overall height mm (in.) 1530 (60.2) Wheelbase mm (in.) 2460 (96.9) ...
Wireless remote control
The wireless remote control can be used to lock and unlock the vehicle. Type A Locks all the doors Sounds the alarm (press and hold) Unlocks all the doors Pressing the button unlocks the driver ...