Toyota Yaris: First generation (XP10; 1998–2005)
First generation (XP10; 1998–2005)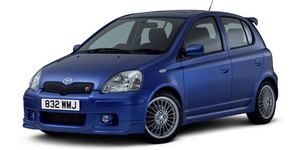 The first generation XP10 series Toyota Yaris, designed by Sotiris Kovos at Toyota's ED2 studio in Europe. Production began in late 1998, with a Japanese on-sale date of January 1999; European sales commenced two months later as the "Toyota Yaris". When introduced to Australasia in October 1999, the "Toyota Echo" name was used, as was the case in Canada when released there in 2003. The "Echo" and "Yaris" names were also given to the export version of the related Japanese market Toyota Platz sedan.
Toyota redesigned the Yaris in early 2005, going on sale in Japan that February. The Toyota Belta sedan, shares underpinnings with the Yaris. However, while the Vitz was designed at Toyota's European ...
See also:
Power windows
The windows can be operated with the switch on each side door. The ignition key must be in the "ON" position. Key off operation: The driver's window works for about 45 seconds even after ...
Headlights and turn signals
Except for Canada For Canada HEADLIGHTS To turn on the following lights: Twist the headlight/turn signal lever knob. Position 1—Parking, tail, license plate, side marker and instrume ...
Rear door outer panel (CUT): 5-Door
REPLACEMENT REMOVAL INSTALLATION Temporarily install the new parts and measure each part of the new parts in accordance with the body dimension diagram. (See the body dimension diagram) Inspe ...