Toyota Yaris: Hood
Release the lock from the inside of the vehicle to open the hood.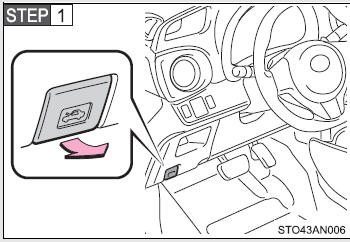 Pull the hood lock release lever.
The hood will pop up slightly.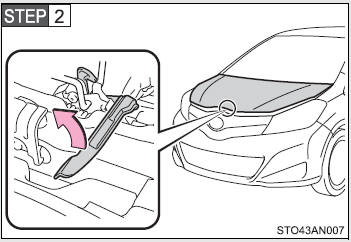 Pull up the auxiliary catch lever and lift the hood.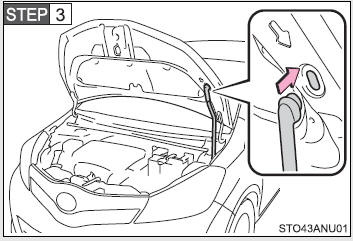 Hold the hood open by inserting the supporting rod into the slot.
CAUTION
■Pre-driving check
Check that the hood is fully closed and locked. If the hood is not locked properly, it may open while the vehicle is in motion and cause an accident, which may result in death or serious injury.
■After installing the support rod into the slot
Make sure the rod supports the hood securely from falling down on to your head or body.
NOTICE
■When closing the hood
Be sure to return the support rod to its clip before closing the hood. Closing the hood with the support rod up could cause the hood to bend.
If you perform maintenance by yourself, be sure to follow the correct procedures as given in these sections. CAUTION The engine compartment contains many mechanisms and fluids that may move su ...
When raising your vehicle with a floor jack, position the jack correctly. Improper placement may damage your vehicle or cause injury. Front Rear CAUTION ■When raising your vehicle Mak ...
See also:
Side doors
LOCKING AND UNLOCKING WITH KEY Insert the key into the keyhole and turn it. To lock: Turn the key forward. To unlock: Turn the key backward. Vehicles with the power door lock system ЧAll the ...
SRS side airbags and curtain shield airbags
The SRS (Supplemental Restraint System) side airbags and curtain shield airbags are designed to provide further protection for the driver, front passenger and rear outside passengers in addition ...
Rear floor crossmember NO.2 (ASSY): Hatchback
REPLACEMENT REMOVAL INSTALLATION Temporarily install the new parts and measure each part of the new parts in accordance with the body dimension diagram. (See the body dimension diagram) Inspe ...