Toyota Yaris: Hood
Release the lock from the inside of the vehicle to open the hood.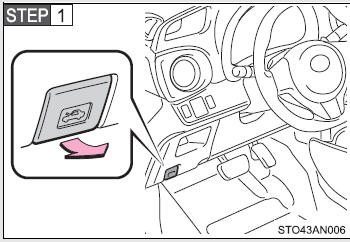 Pull the hood lock release lever.
The hood will pop up slightly.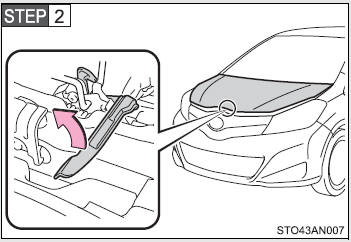 Pull up the auxiliary catch lever and lift the hood.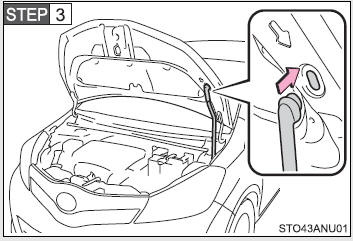 Hold the hood open by inserting the supporting rod into the slot.
CAUTION
■Pre-driving check
Check that the hood is fully closed and locked. If the hood is not locked properly, it may open while the vehicle is in motion and cause an accident, which may result in death or serious injury.
■After installing the support rod into the slot
Make sure the rod supports the hood securely from falling down on to your head or body.
NOTICE
■When closing the hood
Be sure to return the support rod to its clip before closing the hood. Closing the hood with the support rod up could cause the hood to bend.
If you perform maintenance by yourself, be sure to follow the correct procedures as given in these sections. CAUTION The engine compartment contains many mechanisms and fluids that may move su ...
When raising your vehicle with a floor jack, position the jack correctly. Improper placement may damage your vehicle or cause injury. Front Rear CAUTION ■When raising your vehicle Mak ...
See also:
Audio system operating hints
NOTICE. To ensure correct audio system operations: Be careful not to spill beverages over the audio system. Do not put anything other than a Compact Disc into the slot. The use of a cellular phon ...
Checking and replacing fuses
Type A Type B Type C If the headlights or other electrical components do not work, check the fuses. If any of the fuses are blown, they must be replaced. See "Fuse locations" for ...
Maintenance requirements
To ensure safe and economical driving, day-to-day care and regular maintenance are essential. It is the owner's responsibility to perform regular checks. Toyota recommends performing the following ...